Cyber-military capabilities of North Korea
Datum predavanja: 28. september 2018
Presentation offered a framework for understanding how North Korea is using cyber in the pursuit of political and economic goals. Starting with a brief history of how their programs and capabilities, the lecturer explored the types of offensive capabilities North Korea is pursuing, why they are developing these systems, and how other countries can respond.
Lecture has been held by dr. David Fahrenkrug.
---
dr. David Fahrenkrug is an assistant professor of security studies at Georgetown University, where he teaches courses on cyber warfare. He is also the director of strategic planning in Northrop Grumman's Analysis Center. Previously, Fahrenkrug served as a Colonel in the U.S. Air Force and was responsible for conducting strategic analysis on warfare in long-term competitions between the United States and potential adversaries.
Lecture has been held in English language.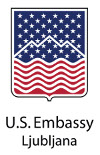 Visit of dr. David Fahrenkrug was funded by a grant from the United States Department of State. The opinions, findings and conclusions stated herein are those of the author[s] and do not necessarily reflect those of the United States Department of State.